Video walls rental is the solution that Aloc offers for areas where the flux of visitors is considerable and continuous. Different of LED Panels, the multiple setup options for size ensure that both the impact of your message and the quality of the information are efficient, in high resolution and fit the size of the room adequately.
Aloc utilizes professional monitors from Samsung and LG. That equipment features joint sizes ranging from 4,9mm to 11mm. So that it is possible to assemble up to 10×10 monitors on each wall. The installation of the video wall is operated by qualified professionals. We want to guarantee the perfect alignment of the panels and synchronicity while playing the content. This is the reason why Aloc takes care of the equipment transportation both on delivery than on pickup, as well as of its installation.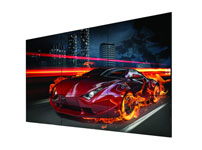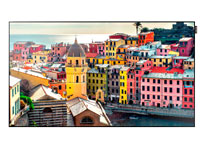 Videowall Samsung
Model EU-46, with 11mm joint.
Video Walls for any situation
ALOC offers video walls in different sizes and dimensions, suitable for a wide variety of events, as trade shows, conferences, conventions or presentations. Our specialized team will make the best size and dimension reccomendations for you. Talk to us for more information and get a quote.
You can also rent Video walls in the US. Talk to our branch in Orlando, FL.